The photo of a baby dressed up as the pope at the Fatima Shrine rocked the internet during Pope Francis' pilgrimage to Portugal for the centenary of the apparitions of the Virgin Mary. But many do not know the story behind this trending photo.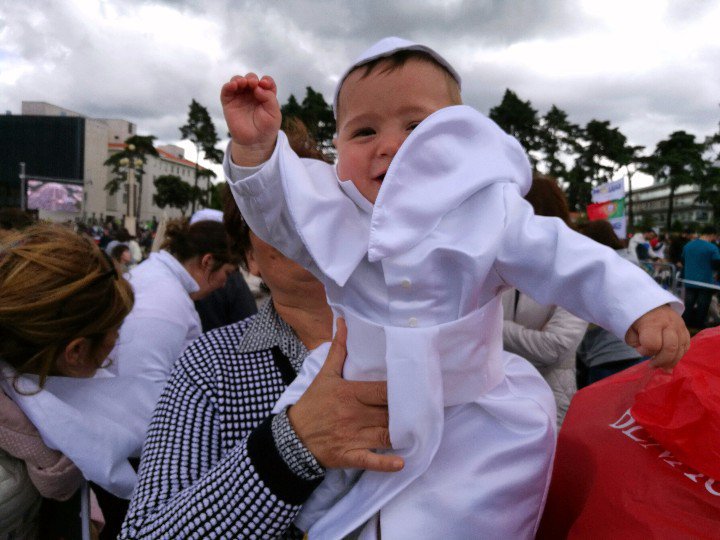 Diego Guerreiro is from the Portuguese city of Pinhal Novo. He was born prematurely at 33 weeks, weighed three pounds eleven ounces and measured sixteen inches.
His mother Carla said that after the birth she could not see her baby. "They had to immediately resuscitate him and take him away to the intensive care unit," she said.
Baby Diego had a hard time breathing, and not one doctor could explain why. Carla who has another son of 7 years said that her baby was at Santa Maria Hospital for 76 days, where he experienced both many improvements and setbacks in his health.
On the day he was to be discharged, Diego again had another severe reversal and was sent to intensive care immediately. At that time, Carla asks Pope Francis to help her son and promised that when the pontiff appeared in Fatima in May, she would bring her baby to the shrine.
MiniPope is doing the rounds on social media. Born premature, mother promised to bring him to #Fatima100 if he lived. Grandma made costume pic.twitter.com/0DWTdFxYIT

— Filipe d'Avillez (@Favillez) May 12, 2017
Carla kept her promise and for this occasion, the mother and the grandmother had the idea of dressing him up like Pope Francis. They both searched the Internet for a pattern that would be simple enough to make and the grandmother sewed the outfit.
Though Diego is still having some problems, this just shows the power of prayer and faith can heal all! If you Believe God healed Diego please share.